What are Veneers
Veneers are thin porcelain or composite resin facings that are bonded to the front of teeth. They are very thin and can often be used as an alternative to crowns.  The advantage veneers offer to crowns are that less of the natural tooth needs to be removed when compared to crowns.
Veneers improve the aesthetics of a smile and/or protect the tooth's surface from damage.  They are ideal for severely discoloured, chipped or misshapen, veneers create a long lasting and attractive smile.
Composite Veneers
These veneers are made up of a composite resin material that is bonded, shaped contoured  to your tooth for the ideal result.
They last from 3-9 years and will improve the aesthetics of your smile in as little as one appointment.  Composite veneers are a cheaper option – cost less than porcelain veneers.
Porcelain Veneers
Porcelain veneers are wafer-thin custom-made shelld of tooth-coloured porcelain material designed to cover the front surface of your teeth.  These thin shells are bonded to the front surfaces of your teeth changing the colour, shape, size and length.
On average porcelain veneers last about 10 years, their lifespan is expected to increase significantly as porcealain becomes stronger and more durable with modern advancements.
The price of procelain veneers depends on what needs to be corrected,  how many veneers need to be placed and the craftmanship of your dentist.   Dr Paul Sideris will discuss with you all costs and treatment options and will only perform treatment you are comfortable with.
Why a Veneer?
Most of our patients who consider getting veneers are those patients who are unhappy about the colour, shape or positioning of their visible teeth in the mouth.  As veneers are permanent, and before considering having veneers you need to ensure your dentist has an eye for aesthetics and an eye for detail. At this practice Dr Paul Sideris, spends much time taking photos and creating a "mock-up'' – all  part of the design process. A good design, takes into a account shape, colour, the smile, patient personality  and fit.
If you don't like the colour of your teeth and want to whiten them permanently or perhaps have some chipped teeth or would like your old veneers refreshed to thinner more natural looking ones, we always recommend a consultation first in order to access the best course of action.  Veneers can also be  an alternative to Orthodontics.  We can many times correct crooked teeth with veneers.
If you have done a little research and decided you would like an aspect of your smile corrected, the best starting point is a Consultation and a little research prior.  Dr Paul Sideris has been practicing in Brisbane and creating smiles for Brisbane residents for over 20 years now.   His friendly and relaxed manner will help you feel at ease and comfortable, his advanced training and experience make him a very popular choice for Cosmetic Dental Work.
During your consultation, Dr Paul Sideris will discuss with you what exactly it is that you don't like about your teeth and then recommend the most suitable cosmetic dental treatment, provide information about what is involved for the recommended procedure, what to expect , costs, timeframes and what is involved on your part. Once you make an informed decision, Dr Sideris will start the design process with photos and what is called a "mock-up" that takes into consideration aesthetic design.
It is important to understand, smiles cannot be copied so if you have decided you would like Julia Robert's smile, or perhaps Sophia Vergara's  –  unlike hairstyles, smiles are very unique and what may work for one would not work for you.
Here are a few things to think about and discuss with us before and During your Consultation.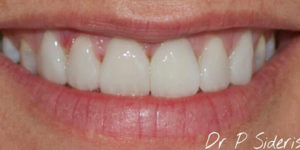 Pro #1 Easily Whiten Your Smile
Drinking, coffee, tea, wine, smoking cigarettes or highly pigmented foods will stain your enamel. Stained enamel can be whitened and we do recommend Zoom for this, as well as refraining from drinking and eating foods and drink with a deep pigment, but it can become stained again.  If you would like to permanently whiten your teeth without having to touch up using Teeth Whitening Products then Veneers may be a suitable solution.
Pro #2 Correct Minor Cosmetic Concerns
Slightly crooked teeth or teeth with gaps can be corrected with Orthodontics but Veneers can work well.  Veneers can be used very effectively to camouflage the orthodontic problems when applied.
Pro #3 Replace Damaged Enamel
Your enamel may be worn down from incorrect brushing or eating acidic foods. Veneers can be used to treat the lost enamel.
Con #1 Cost
The price of veneers will vary depending on the number of teeth you would like restored, and the material used.  Two types of material can be used for veneers – Composite and Porcelain. Talk to our Payment Plan Co-Ordinators and they can assist you with pricing, health fund cover options and how to pay for your out-of-pocket cost.
Con #2 ( or a Pro ) they are Permanent
Veneers are considered permanent form of dental treatment as they require the outer layer of the tooth to be removed first in order to make room.  During your Consultation with Dr Paul, you will discuss if dental veneers are a good solution for you.
Dr Paul Sideris has an attention to detail, so once you do decide this is the right choice for you, he will craft an aestically pleasing smile of high quality and high standard. Dr Paul Sideris, once your veneers are fitted, he will discuss ways in which to care for your veneers and will be checking their health during your dental checkup appointments.